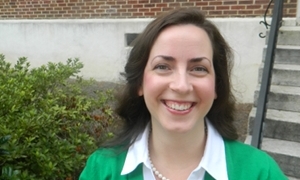 Story and photo by A. M. Abernathy
When Sara Kaiser first set foot on the University of Mississippi campus in spring 2010, she quickly realized she'd found the place to begin the next chapter in her academic career—what she did not expect was a new passion for historical research.
"I had a professor who was an alumna; she convinced me to visit Ole Miss," explained Kaiser, a doctoral student in higher education and Crookston, Minn. native. "I'd never been in the South before. I'd never considered coming to the South before. But once I was here, I knew I wanted to earn my Ph.D. here."
The August Student of the Month for the UM School of Education, Kaiser is beginning her dissertation and third year of doctoral study. Before enrolling at Ole Miss, she served as the student experience and parent coordinator at the University of Minnesota, Crookston, and earned a master's degree in educational leadership at the University of North Dakota.
Kaiser was nominated for the Student of the Month honor for her service and academic successes which include: three conference papers and another currently under peer-review, one co-authored book chapter in progress, and a fellowship with the Carnegie Project for the Education Doctorate.
"I think historical research unexpectedly sparked for Sara when she began her own archival research," said Dr. Amy Wells Dolan, associate dean of education and Kaiser's dissertation chair. "As a historian she's developed a ferocity. She's serving on panels with leading scholars in her area of research. That's exactly what you want to see happen with a graduate student."
In collaboration with UM higher education faculty, her research interests vary from historical examinations of women's roles in fundraising to current policy issues facing U.S. higher education.
Her dissertation, however, primarily examines the influence of one feminist leader in Ole Miss history. Katharine Rea was UM dean of women from 1957 to 1968 and an education professor until her retirement in 1979. Kaiser first learned about the woman during her first semester at UM in a history of higher education seminar.
"I became fascinated with her role as a quiet feminist and an activist," said Kaiser. "I'm studying the work she did with women students, particularly during the Civil Rights Era. The student newspaper published an article about Katharine in the late 1950s and called her a "charming and attractive new dean of women." From the moment I read that headline, I knew I wanted to learn more about Katharine Rea."
Upon graduation, Kaiser hopes to find work at an education non-profit or possibly in a higher education administrative capacity.
"Not only has Sara excelled academically in our doctoral program, but she provides great support to the school," said Dr. Whitney Webb, assistant dean of education and the faculty member who nominated Kaiser. "As a graduate assistant she has worked on numerous projects. It's great to see someone have such a strong commitment to research and hard work."
A. M. Abernathy is the communications specialist for the UM School of Education.