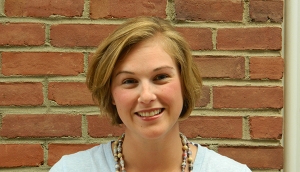 Story by A. M. Abernathy
During her eight years of teaching, Lafayette High School teacher Sally Quong, a graduate student in education at the University of Mississippi, has discovered that leading her students through a history lesson sometimes means engaging the drama first and the dates second.
"I try to teach history like it's a soap opera," said Quong, who is finishing a master's degree in social studies education and has been named July Student of the Month by the UM School of Education. "I believe that, with history, you have to tell a story so the students will understand it; you have to make them laugh and engage it. If you can have a sense of humor in your tactics, the students learn more. To be honest, there are days when I feel more like a stand up comedian than a history teacher."
Quong's teaching philosophy is just one of the qualities that earned the Chicago native a Student of the Month designation.
"Sally is an excellent role model for our graduate and undergraduate students," said Dr. Ellen Foster, assistant professor of teacher education and the faculty member who nominated Quong for Student of the Month. "She balances the stress of teaching a subject area to help students meet test score requirements and the civic responsibility of teaching students to think independently and critically."
Quong's high energy level helps bring out her 11th grade students' enthusiasm for history. She frequently uses games, accents, YouTube videos and incorporates a variety of hand motions to explain concepts.
"Say we're learning about labor unions," Quong said. "I explain there are three things unions are always interested in. When I say 'higher wages,' the whole class gives each other a big thumbs up, when I say 'less hours,' they turn their thumbs down, and when I say 'better working conditions' we all waive our arms in the sweeping Temptations-style dance motion. I see the students doing these same motions while they take the test."
A National Board Certified Teacher (NBCT) by the National Board for Professional Teaching Standards since 2009, Quong will graduate in August. She spent the last three years working toward her master's part-time since finishing her NBCT—a credential that warranted a $6,000 raise from the state government.
"I went through the national boards so I could afford to go to graduate school," she said. "But seriously, the program forces you to evaluate who you are as a teacher and explain why you do what you do as a teacher."
A second-generation teacher, Quong's career began at South Panola High School in Batesville, Miss., in 2004 where she began teaching history after completing her student teaching there. She later taught at Lafayette Middle School and, since gaining her NBCT, has moved into her current position at Lafayette High School.
A.M. Abernathy is the communications specialist for the UM School of Education.