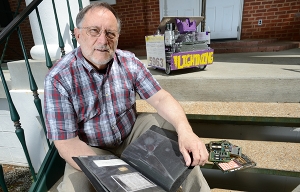 University of Mississippi graduate student Raymond Holt dramatically impacted the worlds of computer science and flight in 1970 when he invented the world's first microprocessor chip, a technological leap that enabled the U.S. military to run integrated flight control systems in the F-14 Tomcat fighter plane.
Forty-three years later, the retired Silicon Valley computer designer is using his engineering experience to teach children in Mount Olive, Miss., about science and robotics and is on the verge of receiving a Master of Arts in Curriculum and Instruction (MACI) degree as a graduate fellow at the UM Center for Mathematics and Science Education (CMSE).
"I didn't originally plan on visiting Mississippi," said Holt, the UM April Education Student of the Month. "I was sitting in my driveway in Oklahoma in my motor home that I had just bought to travel the country. I'd sold my house and I had to be out in a couple of days when a friend from Mississippi called and invited me visit his non-profit ministry, R.E.A.L. Christian Foundation. He said he would have me go around and check out the computers in the ministries. After two weeks I knew I should stay. I liked helping rural ministries."
After deciding to stay in Mississippi, Holt met Tony Duckworth of Mount Olive Ministries in Mount Olive. The organization provides children and teenagers with educational opportunities to promote an interest in academics and helps prevent students from dropping out of high school.
"Ray's attitude about his achievements inspire our kids to dream again," said Duckworth. "They know that their dreams can become a reality."
Holt suggested starting a robotics team to spark an interest in the students—it worked. During the first-ever statewide high school robotics competition hosted by the CMSE in February, Holt's group, dubbed Team Purple Thunder, took a first and second place in two categories and will now travel to compete against 128 other robotics teams in the FIRST World Robotics Championship in St. Louis from April 24-27.
"He really inspired us to do well in the competitions," said Mount Olive student Whitney Schreiber. "We're just a small town that never really gets anything, and he teaches us so much."
Holt is currently working to raise money to help send his team on the trip and is pleased with the progress he has seen in his students over the past year.
"Seeing the struggling that the youth have in Mount Olive, I had no idea it would grow to this," said Holt. "Our first goal was to make sure none of our children drop out of high school and the second one was that their GPA would be a 3.0. Now nine out of 11 students make straight A's. Two of our past students have been accepted to Ole Miss."
Offered at UM since 2010, the MACI degree is a one-year master's program designed to help college graduates with non-education degrees transition into teaching at the secondary level. The CMSE offered Holt a fellowship which included full tuition, an office space at the center and access to a variety of professional development and educational materials. He will graduate this May and hopes his education will help him better assist students.
"This degree has been way too much work to say it's just for me," said Holt. "I fell into robotics here, but working with youth is my passion."
Story by J. A. Scott