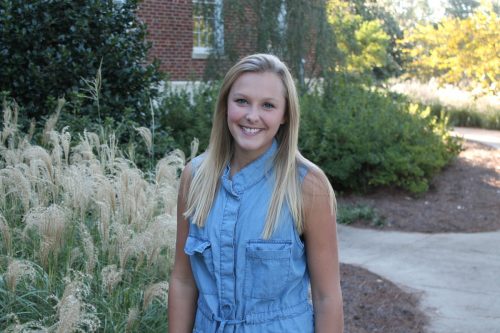 Oxford native Rae Drewrey, spent years observing and learning in her mother's elementary school classroom. But, after spending less than one month watching her mom become a special education teacher, Drewrey discovered a new passion for teaching students with disabilities. This experience led her to the special education program at the UM School of Education.
We recently sat down with Drewrey to talk about her experience at the SOE.
When did you decide that you wanted to be a teacher?
Ever since I was young, I was always drawn to education. My mom always said I was drawn to it like a magnet. When I got to college I actually majored in exercise science, but after a year, I knew I had to be in education.
What makes our SPED program special?
We got to attend a conference in Jackson this year and visit the schools for the blind and deaf. So I'm really excited that we get to do that, it's such a unique experience. Another unique aspect of the special education program that was really valuable to me was going to North Mississippi Regional Center; it's a classroom and living setting for special needs adults. That was really special to me. 
Where do you see yourself in five years?
I have this big idea to get my master's degree and maybe eventually, a Ph.D. I would love to pursue that. I also plan on getting a gifted and talented endorsement and an emotional disability endorsement.
What is your dream job?
I want to work in a self-contained setting, working with severe/profound disabilities. I'm not sure what type of facility I would like to work at, but I know I want to stay in the classroom. I wouldn't leave the classroom setting for anything.
What's your teaching philosophy?
I feel like it's my job as a teacher to help students reach their fullest potential. This is especially important considering the students I work with; they can be forgotten or overlooked and told they can't do something because of their disability. I feel like it's my job as an educator to show this population of students that they can do and achieve whatever they want, regardless of their disability. My philosophy toward education is to help them achieve their goal, regardless of the barriers.
What has been your most rewarding experience at UM?
I've been student teaching in Oxford and there are a lot of rewarding experiences in the classroom. The most rewarding thing is watching your students reach a goal that they've been working so hard for. Seeing that lightbulb go on, and their eyes light up, makes your day and it makes their day. It's awesome to know you and your student accomplished something together.
What do you like to do in your free time?
I just got engaged so I'm planning a wedding right now, but I also love to read.
A word of advice for SPED majors?
Be open-minded, even if you're nervous. I found my calling to severe/profound disabilities, by being open-minded. I was nervous to work with a population of students that I had never worked with before, but then I fell in love with it.
Interview by Liz McCormick