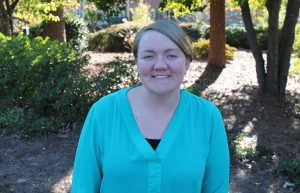 A Batesville native, Michele Prince is a full-time teacher and part-time graduate student pursuing a master's degree in educational leadership. Her passion for students and dedication to learning exemplifies what it means to be an educational leader. With a recent crisis management experience under her belt, Prince has proven herself to be a an effective leader in and outside of the classroom. We recently sat down with Prince to talk about her aspirations and reflect on her time at the SOE.
Crisis management experience

I work at Crenshaw Elementary, which is a very rural school that is almost 25 minutes from the smallest town. So I was driving to work, and I looked up and see lights everywhere and then these kids. I said to myself, "Those are kids from our school district in the middle of the road." Unfortunately, it was our cognitively impaired and disability bus, so I had all these cognitively impaired and disability students in the middle of Highway 310. So, I pulled my car over to the side of the road and go out to these kids. Immediately, I started making phone calls. When we got them to the hospital, I had to let the hospital staff know that, "They're not going to be able to tell you where it hurts, they're just not going to be able to." So there was that and calling parents and making sure we had sign out sheets. It was a mess, but thankfully everybody was OK. The students actually ended up writing me some nice little notes at the end of it all, which was very sweet.
Did that experience help prepare you in any way?
I had just been through the crisis management training this summer, so I knew that there were all of these steps I had to take, but because of all of this training I had it was almost second nature. Because I was so prepared, I didn't have that freezing panic and I didn't think, "Oh my gosh, I don't know what to do." I just played back in my head all of the things Dr. Bunch told us this summer, and it was interesting to see just how many things that you have to take care of. This was not just one child who had been in an accident, it was 12 children and you had to talk to 12 parents and calm 12 sets of people down and make sure that everything was OK. It just takes it from being the small scale stuff to a really large scale.
When did you realize that you wanted to pursue education as a career?
I've always been involved with kids, so I think I always knew that I was going to have some interaction with children. I went through several different avenues and nothing really clicked. I didn't really feel like anything was my niche until I started taking education classes and realized that this is where I belong. It was kind of the 'A-Ha!' moment when I realized this is what I need to be doing.
What she really likes about her program
I like the way that (our program has) the internship built in. You have to get those experiences before you can go out there and say, "Oh, I'm an administrator." You have to actually gain experience and practice what you're doing. I'm really fortunate with the internship position that I'm in now, I kind of get to work in that role 24-7.
Her favorite class
I think the most eye-opening class was Dr. Bunch's Crisis Management class. There's just so many things you don't really think about that could potentially cause you a lot of issues in a school setting.
What is your dream job?
Odd as it sounds, I really love junior high kids — they are my passion and they are so forgotten at times. When people think of junior high kids they think, "Oh the attitudes…I don't want to deal with that." But these kids are still trying to find themselves and they need guidance. I think a lot of times we see their large bodies and say, "They don't need us anymore," but yes they actually do. They need the structure and they need guidance, so I think working somewhere with junior high kids is eventually where I will end up. Dealing with them in any capacity is where I want to be.
Where do you see yourself in five years?
I'd like to see myself working with junior high kids and helping those students reach their potential. It is such a critical time and you need to catch them then. If they don't believe in themselves by the time they leave the junior high setting, they probably never will and that is just sad to me.
 Her teaching philosophy
There's a lot of rhetoric out there, but I honestly believe that every single child has the potential to learn. You just have to figure out how to teach that child. These days, all students do not learn the same way, and you can't give this one size fits all instruction and say, "Okay go learn this." You may have to teach the same thing 15 different ways, but every single student has the potential to be successful and reach grand heights. You just have to figure out how to reach that student and make them believe in it first. Because if they don't believe it, then you're never going to win that battle. But if you can make them believe in themselves, the possibilities are endless.
What do you like to do in your free time?
I spend a lot of my free time with my special needs younger cousin, who just turned 13 this year. She has a hard time with life in general, so I try to do a lot of things with her just to make her happy. That can be sitting on the porch swing telling her the same stories I've told her a hundred times, but to her that is the highlight of her day. I think that is one reason why I chose the education route, because she can learn things and do things even with her disability. I think watching her struggle and the challenges she faces lets me know that the things I have to face aren't that bad.
Advice for education students

Make sure this is your passion. If it is not your passion and not truly what you want to do, then you won't be as successful with the students. They have to be your heart, and it has to be all for them. So if it isn't your passion, find something else.
By Liz McCormick