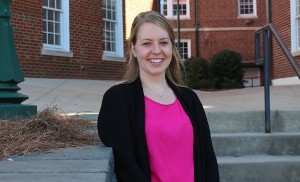 February Student of the Month Lydia Hayes is finishing her final semester as a graduate student in the SOE's M.A. in Higher Education/Student Personnel program. For nearly two years, the Monticello, Minnesota, native has served as a UM Graduate Community Director overseeing 12 community assistants working in student housing. Whether its developing programs for the residence halls or working one-on-one with her residents, Hayes' passion for college students can be seen through the positive impact she's had on the student housing community at Ole Miss. Hayes recently sat down with us to discuss her time as a SOE graduate student.
What brought you to Ole Miss?
I came to Ole Miss after doing a nationwide search. I knew that I wanted a different experience from what I had as an undergrad and I knew that Ole Miss could give me that. The South is kind of a new culture for me, so just working with a different population of students and the chance to experience new things is really what drew me here.
Why did you decide that you wanted to study higher education?
When I was in undergrad, I was a resident assistant and I was very involved on campus. I was a tour guide and worked with admissions and really fell in love just working with college students. It's such a cool time in students' lives—they're just trying to figure everything out. When considering career possibilities, I asked myself, "What do I want to do?" Working with residents and residential housing was something that I loved doing already, so, why not make a career of it?
What is your dream job?
In the next year, I'd like to move closer to family and go back up North. I'd like to see what its like to be a residence hall director as a full-time professional. But I have no idea where life will end up taking me. Sometimes I want to travel the world and do service work in Africa. Sometimes I want to start my own coffee shop. And, sometimes, I think it would just be nice to stay in student housing. So I don't know, we'll see. I firmly believe you don't have to decide what you want to do with your life when you are in college. I think that can change throughout your entire life and you don't need to stay in one job forever. But maybe that's me being young and naive too.
Has your time as a graduate community director affected your future outlook?
Definitely. This experience has helped me take that step from being a student into being a peer-professional. Hopefully, within the next year, I will become a full-time professional. So I think that it has definitely given me a new outlook on what education is and how we educate students. While I'm not sitting in a classroom or giving a lecture, there's still a lot of opportunity to educate students in a residence hall through programs. Also, seeing and understanding the different types of students has been an amazing opportunity. No two students are exactly alike. I work with a broad spectrum of people and it has given me a new and valuable perspective.
Where do you see yourself in five years?
Overall, I just want to be happy and fulfilled. Ideally I want to be able to say: "Yeah, I really enjoy my life." I like to be near my family—which is something I learned by being 16 hours away from Minnesota. It would be nice to drive an hour instead of hopping on a plane and taking a whole day of travel. I think in five years I'll probably still be working in housing or some aspect of it. Maybe I'll be working in a different area of student affairs, but five years of experience is still considered to be pretty new to the field. Hopefully I'll be working my way up somewhere and still interacting with students because that personal interaction is what I really love. I'll have a better answer to that question in five years.
What are your hobbies and interests outside of higher education?
I like to run. I also like to do all things crafty. You know, Pinterest and that sort of stuff. I love exploring new areas; that's what fueled me to come to Mississippi. I like to go out and try new restaurants, see new things, be outside, go hiking or do whatever.
Photo and interview by Liz McCormick