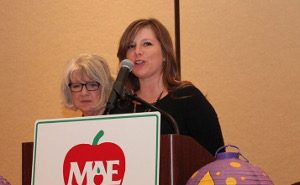 An elementary education major and Grenada native, Lindsey Leggett, would love to give back to the Mississippi community that has given her so much through education. Leggett has high aspirations for herself, which can be seen in her 4.0 GPA, active involvement in the Mississippi Association of Educators (MAE) and Teachers of Tomorrow programs, and her passion for service. Her "can do" attitude shines from her coursework to her extra efforts outside of the classroom. To top it off, she was recently awarded the MAE Charles A. Johnson Scholarship. Leggett took time out of her busy schedule as a student, wife and mother, to sit down with us and reflect on her time as an Ole Miss student.
Where are you from and what are you studying?
I'm from Grenada and I'm a junior, elementary education major.
Why did you choose the University of Mississippi?
I've always loved Ole Miss and Oxford, there's just something special about the place and the atmosphere there. When I chose to go back to school to do elementary ed, there wasn't really any question of where I was going to go. I do attend to the Grenada regional campus, and being able to go somewhere where I already live and work has really helped me pursue what I've always wanted to do.
When did you realize that you wanted to study education with the hopes of being an elementary school teacher?
I say I always wanted to do this, but it sort of came on a little later in life. I am 30 and going back to school. I knew I wanted to be a teacher when I grew up a little bit more and realized how much I really do love kids after spending more time with them than I had previously in my life. When my friends started having kids and I was around kids, I really had a natural way with them and I just knew that's what I needed to do. In my first field experience, at Davidson Elementary in Water Valley, I knew that I was where I was supposed to be in my life.
So your dream job would be teaching elementary school?
Yes, I haven't decided exactly what grade. I've worked with second and third so far, and I really enjoyed both of those grades. I want to get experience with kindergarten and first, before I decide exactly where I would rather be. But second and third has been so fun, you just never know what those kids are going to say, and they're so smart. It's kind of amazing to see them learn something that you're teaching.
So do you see yourself staying in the Grenada area?
I do, just because this is where my family is. I have a daughter, and I think it's a good place to raise kids. It's a very family friendly town and the school district here in Grenada is really great, but the two schools that I've been to for my field experiences have been pretty awesome, too. So I wouldn't mind driving if I had to, but the hope would be to be somewhere near Grenada.
What are some of your hobbies and interests outside of teaching and working with kids?
We do a lot of things outside. It's pretty much just me, my husband and my daughter—we're a close family. If it's a pretty day or a pretty weekend we're going to be outside, pretty much just chasing bubbles or butterflies, something fun with my daughter. As a family we enjoy cooking out, we like going to the movies, going to different restaurants and we love going to Ole Miss baseball and football games!
You're actively involved in Mississippi Association of Educators and Teachers of Tomorrow programs. Have you learned anything through your participation in these organizations or gained any significant experiences that you'll carry over into your career as an educator in the future?
 Yes, I got to lead the first project our class did which was a food drive called "Save What You Can" and that was pretty amazing. I've never asked for donations for anything like that before, so getting that networking experience was helpful, or will be helpful I'm sure, in the future. Also, taking a leadership stance, even though it was a small thing. But asking for help and instructing people to what I needed them to do was a helpful experience. Just being able to see the need that's out there, not far away from where I live. It's pretty eye-opening to realize that there's a lot of people who need help, and that I'm actually able to help them in some way. It doesn't take a lot of money, it doesn't take a lot of time, but service was something that I didn't realize that I needed in my life. But I do.