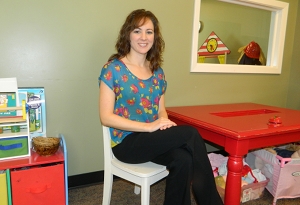 Story and photo by J. A. Scott
A Bulldog turned Rebel, Lacy Crumrine  has been fascinated with play therapy since she benefitted from it as a child. Today, she's on the verge of writing a dissertation on the subject and becoming a registered play therapist.
Crumrine, the October Education Student of the Month, received her bachelor's degree in elementary education at Mississippi State University before coming to the University of Mississippi in 2007 to pursue a master's degree and doctorate in counseling. In August, she received her licensed professional counselor credential from Mississippi. She's also a nationally certified counselor by the National Board for Certified Counselors.
"I never gave up my passion for teaching," she said. "Halfway through my master's program, I decided to earn a Ph.D.  As a counselor you learn that you can only help so many people. But with teaching others how to help people, I can help so many more people."
Crumrine was nominated by her mentor Dr. Marliyn Snow, associate professor of counselor education and director of the Child Advocacy Play Therapy Institute (CAPTI) at Ole Miss.  While developing the center, Snow invited Crumrine to join her staff. In the last year, the institute has become an approved center for play therapy education by the Association for Play Therapy and is the first institution to offer a play therapy degree in the United States.
"Through her years as a student in our counselor education program, she has been dedicated to learning to be the very best professional counselor," said Snow. "Her passion for helping children will benefit a immeasurable number of children in the future."
As a child, Crumrine was helped through play therapy when she encountered a parental transition in her life. Her stepfather was entering into her life which had been occupied by only she and her mother for five years. Her anxiety was observed by her third-grade teacher who recommended Crumrine be sent to a play therapy counselor to help her understand this parental role change. This experience helped her to decide which route she wanted to take in her career.
"I don't remember working on anything with the counselor," said Crumrine. "I just remember I had a lot of fun going there once a week and playing with her. After a while, I felt better about what was going on and I got better. As a child, I wasn't able to see that play therapy is what helped me but as an adult, I can see the effects now."
At CAPTI, the counselors meet with nearly 50 children each week in 45 minute sessions. They begin by telling the children that they can say and do whatever they want in the playroom and offer the children a range of toys so they can express themselves better. Themes in play can range from nurturing to aggression and art.
"Children don't always have the language or the understanding to say what's wrong," said Crumrine. "We watch the children and usually they will play out what is happening to them, that's the only way they can express themselves. If a girl wants to sword fight she can instead of play with dolls or if a boy wants to play dress up, they can. It's a free environment where they can do anything short of hurt themselves or others."
Crumrine is finishing her dissertation and completing her hours to become a registered play therapist. Upon graduation, she would eventually like to become the director of an institute like CAPTI.
"I would like to teach counselors in play therapy as well as offer it to children," she said. "This is my dream job and I want to work wherever I can bring this passion of mine to life."
J. A. Scott is a communications intern with the UM School of Education.