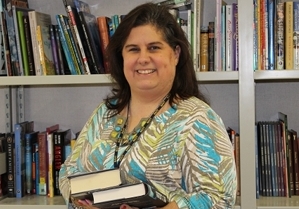 Story and photo by J. A. Scott
After an EF-5 tornado demolished the town of Smithville, Miss., in April 2011, many citizens did not know where to begin to rebuild what was left of the lives they once knew.
For September Education Student of the Month Kerry Baker, an online graduate student at the University of Mississippi and the librarian at Smithville High School, one step toward recovery was landing a Beyond Words: Dollar General School Library Relief Fund worth $15,000 for the school where she has taught for the past 24 years.
"I was able to pursue the grant as part of my literacy classes," explained Baker, who is earning a master's degree in literacy education from UM. "The tornado wiped out the school. Right now we're currently on a temporary campus until August of 2013."
The relief fund was created by Dollar General to help libraries recovering from major disasters. This grant will provide students with items ranging from replacement books to media and equipment that were destroyed by the violent storm that leveled the school and rendered it unusable.
The Mississippi Emergency Management Agency reported that the EF-5 tornado, the first in Mississippi since 1966, produced winds upward of 205 mph and killed more than 35 people here before moving across to Alabama.
"It was pretty widespread destruction, nothing like I'd ever seen," said Baker. "I remember my daughter saying I always thought we would be OK in a house.  One week after the storm, many people in Smithville installed storm shelters in their backyards."
Baker is studying under Dr. Thea Williams-Black, associate professor of teacher education, and drew up the successful grant as a class project. The students were not required to submit the grants but Kerry decided to submit hers to Dollar General in hopes of acquiring more materials to help her students.
"Kerry is an outstanding literacy education student," said Williams-Black. "She works well with her peers and is a leader in her school district."
Over the past year, Smithville has worked with FEMA and volunteers to rebuild. Residents have made a long-term recovery plan equipped with interviews, town meetings, and milestones to conquer. In the long-term education plan for Smithville High School, there was a need to "increase accessible technology and enrichment for all grade levels." The Beyond Words grant combined with Kerry's literacy degree will help the town rebuild both as a town and as a community.
"We need more information on literacy," said Baker, "It's something that is a part of everyday life. If you can't read you're not going to do well. If I can learn a little bit more about how to diagnose some of these problems early on then maybe I can help the kids out to where they need to be and prevent some problems later on. I like to see that light come on for kids. When we find a book together that really hooks them into reading you're on your way to developing someone that really loves reading.