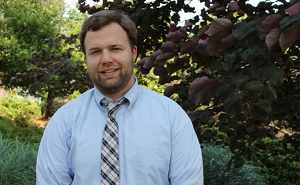 Ole Miss alumnus Joseph Wallace doesn't have your typical teacher's resume. After graduating from UM's College of Liberal Arts in 2008 and School of Law in 2011, passing the bar in Mississippi and Tennessee and two years in private practice, he decided to chase a desire he just couldn't shake—teaching.
In 2013, the Corinth native stopped taking new clients and applied to the Mississippi Teacher Corps (MTC), one of the most competitive alternate route teacher training programs in the nation. The MTC places top college graduates in some of Mississippi's most challenging and hard to fill classrooms.
"I've realized through all of my experiences that my biggest heroes have always been teachers," Wallace explained. "I thought about joining the Teacher Corps when I graduated college but I went to law school instead. Being a lawyer is like jumping on a merry-go-round and the longer you stay on it, the harder it is to jump off. I knew that if I didn't go for this now, I never would."
UM's January Education Student of the Month, Wallace is currently in the midst of his first year as a seventh- and eighth-grade social studies teacher at Okolona Jr. High School where he teaches more than 100 children about subjects ranging from the U.S. Bill of Rights to ancient Roman history.
Meanwhile, he maintains his legal licenses and Wallace occasionally finds ways to apply his legal knowledge to lessons. Last fall, he prompted from news surrounding U.S. privacy rights and NSA surveillance to develop a unit for eighth-graders about the Fourth Amendment. Each of his students wrote a personal letter to U.S. Congressman Alan Nunnelee on the subject.
"There is nothing that can really prepare you for this…the first year of teaching," he said. "But more and more each month, I'm connecting with my students. Once you start to reach children, they start to challenge you. It makes me want to work harder, be better and I remember the great teachers I had. Honestly, career teachers who perform well are some of the best kind of people I know."
Last summer, Wallace was part of the MTCs largest class in 24 years when he and 31 other recruits completed seven weeks of intense teacher training at the MTC's summer training facility located at Holly Spring High School where recruits gain hands-on teaching experience providing summer school instruction for children from four North Mississippi counties.
"Joseph has a maturity and a calmness that lends itself well to the classroom," said Dr. Tom Brady, MTC director. "I think these strengths have helped him with managing a classroom and that's not to mention he's very, very bright and a hard worker. That's always a good thing for a new teacher."
In addition to the hands-on training, each MTC member completes graduate coursework two weekend per month at the UM School of Education. In May 2015, Wallace expects to receive his third UM diploma when he hopes to finish a Master of Arts degree in curriculum and instruction.
"I believe there is a way to bring all of my skills together to do something positive for education in Mississippi," he said. "That may be in the classroom or in a leadership role. It may be in research or at the policy level. But, there is so much change going on right now and with change, there is always opportunity."
Story by A.M. Abernathy