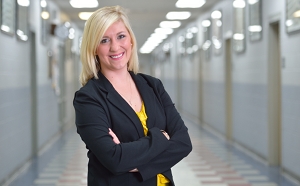 Watch an interview with Wilson online!
Earning an advanced degree in educational leadership requires commitment. But for Principal Corps recruits like Haley Wilson, the pursuit is a lifestyle all its own.
Since August, Wilson has served as an intern principal at Lafayette High School in Oxford. It's a full-time position and, more importantly, hands-on training alongside veteran administrative mentors selected by UM faculty. With a combination of experience and graduate coursework on weekends, she will receive a Specialist in Education degree in educational leadership next August.
"This program really puts you through the whole experience," the Batesville native said. "You learn what it means to be an administrator and lead a school because that's exactly what you're doing."
Each school day, Wilson takes on the role of de facto assistant principal. This means patrolling hallways, supervising school buses and addressing discipline issues. But, it also means observing classrooms and conducting research to help faculty stay current on instructional methods. This spring she'll serve the same role at Lafayette Upper Elementary School and work with a new principal mentor.
"I'm hoping to grow as an instructional leader," Wilson explained. "I'm focusing on curriculum and best practices to help teachers be the best that they can be. Ultimately it all comes down to students learning and becoming educated members of society."
Before joining the Principal Corps, Wilson was a science teacher at Batesville Junior High School. She's also an alumna of the School of Education's undergraduate program in secondary education and master's program in literacy education.
"Haley's greatest strength is her passion for students and education," said Principal Corps interim director Dr. Tom Burnham, who nominated Wilson for Student of the Month. "If you talk with her for more than five minutes, you realize she has great interpersonal skills and doesn't step away from difficult situations. She steps right in and manages issues with finesse."
Wilson is currently one of 12 teachers from across Mississippi who make up the fifth cohort of the program founded in 2009 with a $2 million grant from the Jim and Donna Barksdale Foundation. In 2012, the program was refunded in $1.4 million from the Robert M. Hearin Support Foundation and expanded internship placements to the Mississippi Gulf Coast. In August, the ranks of Principal Corps alumni working in public education throughout the state should grow to 50.
Upon graduation, Wilson hopes to move into a principal or assistant principal position in North Mississippi—an opportunity nearly 99 percent of Principal Corps recruits receive by graduation.
Alumni also receive a $10,000 signing bonus from the program via the Barksdale Foundation upon signing a contract as a principal or assistant principal and beginning work. All graduates make a five-year commitment to work in Mississippi education.
"Every day I get up and I look forward to what I'm doing," Wilson said. "Through this program, we're helping to create a new generation of educational leaders. I'm excited to see the impact we can make."
Story by A.M. Abernathy