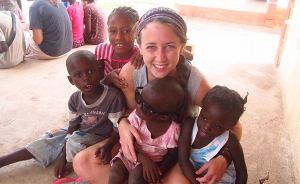 When most tourists visit island nations in the Caribbean, they pack swimsuits, sunscreen and perhaps a good book. But when Frances "Cookie" Harris went to Haiti in December, she carried a duffel bag jam-packed with 60 pounds of books.
The eight-day visit was the San Antonio native's second trip to Haiti. It was also the beginning of what the University of Mississippi graduate student hopes will be meaningful education initiatives at two organizations striving to improve the lives of children living in extreme poverty.
With support from UM faculty, Harris has helped teachers at the Haiti Children's Rescue Ministry, an orphanage and school in the city of Gressier, as well as Respire Haiti, a nonprofit community center and school for more than 500 children, enhance their educational programs. Primarily, she has donated books and classroom materials to both organizations from the UM School of Education's teaching resource library.
"These books were being phased out and they were just going to be thrown away otherwise," Harris said. "I thought, 'What if I could take these books and start an education program at the orphanage?' There are children there who love to be read to and want to learn, but don't have the resources."
In Haiti, only 50 percent of primary school-aged children are enrolled in classes and 60 percent abandon formal education before the sixth grade. Also, nearly 40 percent of adults struggle with literacy, according to data from UNICEF.
Haitians, who speak Creole, learn to read and speak English in schools, many of which struggle with teaching materials and other basic necessities.
"I'm so happy to know we are able to be part of what Cookie is doing in Haiti," said Sydney Rowland, associate professor of curriculum and instruction and the faculty member who help Harris acquire the materials. "These books are no longer being used by our students because teachers are changing their materials because of Common Core. But they're books that can mean a lot to people with so little."
With more than 200 texts and complementary learning materials for students ranging from preschool to eighth grade, Harris delivered organized plans for volunteer teachers who work with children at Haiti Children's Rescue Ministry to encourage children to learn to read and speak English as a second language.
"Once I had the books and resources, I was able to build lesson plans," she said. "In schools, the children are taught to speak English, so you have to know a bit of Creole to follow the lessons. You have to connect phrases and words to the pictures. But it's amazing how well and fast the children learn."
In previous years, Harris also served on similar missions focused on education in countries in Africa and South America. She recalled the impact of her first visit to Haiti in summer 2013, during a mission trip coordinated through St. Luke's Episcopal Church in San Antonio.
"That summer completely changed my view of the world and poverty," Harris said. "Children are living with virtually nothing. Many are sold into slavery. Girls become prostitutes because there is no other option. How can things get better if we don't start with education?"
For Harris, Haiti has become more than mission work. In May she plans to return as an ESL teacher at Respire after she completes her master's degree in elementary education.
"No one should grow up without a voice or someone to love them or the opportunity for an education," she said. "It's easy to say, 'Oh, they will figure it out eventually,' but this is my passion, this is my dream. That's why I've got to go."