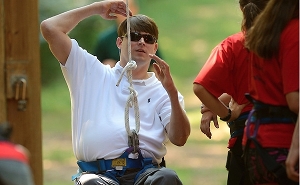 Watch an  interview with Stubbs online!

In spring 2003, Cameron Stubbs, now a first-year graduate student in higher education at the University of Mississippi, was only one semester away from completing his bachelor's degree in business administration from UM with plans to enter a career in pharmaceutical sales.
However, a shallow diving injury dramatically changed Stubbs' life in an instant that year. After diving into three feet of water, the Pickens, Mississippi native sustained a severe vertebra injury resulting in total or partial loss of function in all four limbs.
"It took years of therapy and a lot of hard work to bring me back to Ole Miss to finish my undergraduate studies," explained Stubbs, the October Education Student of the Month. "At first, I could only move my pinky fingers. It was like someone had hit the resent button and I had to teach myself how to do things all over again. Over time, I was able to go from a motorized chair to a manual one. I actually have a very strong upper body now."
Today, Stubbs, who has worked for the Mississippi Department of Rehabilitation Services in Jackson, Miss., is in the process of transitioning his passion for helping others, especially those with physical disabilities, into a higher education environment.
UM Vice Chancellor for Student Affairs Dr. Brandi Hephner LaBanc, who teaches a student services seminar in the UM higher education program, nominated Stubbs for student of the month in September.
"Cameron is one of those students who just lights up the room," said LaBanc. "While teaching him, I think 'I hope he learns as much from me as I have with him,' because he has such a great attitude and so much to offer. I wish everyone had his positive spirit and thirst for life."
LaBanc was impressed by Stubbs' determination during a team building exercise at the UM ropes course. During the class' first trip to the course, Stubbs was able to complete many of the activities alongside his classmates, but the zip line eluded him. After approaching the course director, he and nearly his entire class returned a few days later so could finish the course with a special harness.
"After I was not able to complete the course, it became a personal goal for me come back to it," he explained. "The reality is I do have some physical limitations, and I don't like to use the word limitation.' But, I hope the experience allowed our whole group to open up our minds, which are limitless."
Upon graduation, Stubbs hopes to find work at a college or university where he can have a direct impact on students. He expects to finish his master's degree in May 2015.
"My dream job is to be dean of students right here at Ole Miss," he explained. "But, I really do enjoy learning about all higher education services and programs that are available to students and how we can help them become the best professionals that they can be."
By J. A. Scott, M. Knight and N. Latil