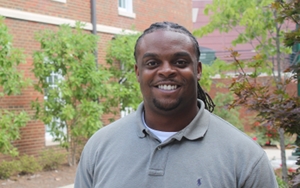 After seven years of teaching mathematics at Oxford Middle School, University of Mississippi graduate student Brian Buckhalter is set to tackle new challenges in both his professional and academic life.
In addition to his new role as the mathematics coach for Oxford Public Schools, Buckhalter is beginning his first year of graduate school as a fellow at the Center for Mathematics and Science Education, or CMSE, an institution the New Orleans native has come to know well over the years though professional development programs.
"CMSE programs have shaped who I am as a teacher," he explained. "My ideas about how children learn and how people learn have evolved so much. In learning how to teach others, I've learned so much about myself."
Buckhalter cites CMSE programs like Project PrIME, in which the center trained more than 130 Mississippi middle school mathematics teachers over three years to improve student outcomes by fostering a deeper understanding of content knowledge and equipping instructors with new teaching methods.
"Our center is fortunate to work with great teacher leaders and graduate students such as Brian," said Dr. Alice Steimle, CMSE associate director and the faculty member who recommended Buckhalter "Over the years, I've had the opportunity to watch Brian grow professionally as a teacher and learn that he has the potential make a great leader. We are delighted to have him join the CMSE fellowship program and are just as excited to see the impact he makes on teacher education."
A graduate of Dillard University in New Orleans, Buckhalter came to Oxford in 2005 after being relocated by Hurricane Katrina. With special permission from Dillard, he completed the student teaching requirements for his elementary education degree in Oxford.
By May 2006, student teaching turned into a full-time job. Since then, Buckhalter has been honored as teacher of the year at OMS twice and was the 2010 district teacher of the year.
"I couldn't have planned this for myself," he said. "But I could not be any happier about the way things have turned out. I think sometimes we are just put where we need to be. The accolades I've received are great; they've forced me to say 'What's next?' and raise standards for myself and my students."
Over the next 18 months, Buckhalter plans to complete the requirements for a Master of Education degree in curriculum and instruction from the UM School of Education, Mississippi's largest producer of teachers and educational leaders.
Part of his role as a CMSE fellow includes helping create professional learning communities among middle school mathematics teachers at partnering schools within CMSE's Developing Excellence in Education through Professional Learning Communities project, aka Project DEEP. His fellowship also awards full tuition, research resources, professional networking opportunities and more.
In addition to his full-time academic schedule, Buckhalter will also help develop curricula for K-5 mathematics teachers during his first year as a mathematics coach in the Oxford school district and implement research to improve student achievement.
"My passions are for learning and helping teachers," Buckhalter said. "So often new standards and regulations are placed on teachers without support to implement them. I have the opportunity to be the person to go to teachers and say, 'How can I help you?' and 'Let's make a plan for success.' I am honored to be that person."