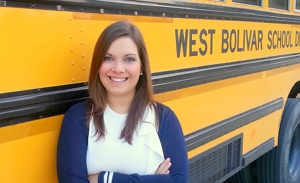 Since June, University of Mississippi elementary education major Blake Schrouf begins most days at 5 a.m. to help with bus departures and prepare for teaching collaborations for the Teach for America training facility at Delta State University in Cleveland. For the Seattle native, summer vacation has provided a behind the scenes look at one of the most competitive alternate route teacher training programs in the country.
Schrouf, the UM July Education Student of the Month, originally came to Ole Miss as an international studies and Spanish major. However, she was inspired to explore a new field when she volunteered with the local Leap Frog organization throughout her sophomore year and fell in love with teaching.
"I felt that international studies wasn't for me, but I didn't really know exactly what I wanted to do," said Schrouf. "After working with Leap Frog and spending time with kids, it was like an epiphany. I wanted to teach and 12 hours later, I changed my major and I haven't looked back."
This summer, Schrouf received an internship opportunity for TFA. The organization recruits some of the nation's top college graduates to teach for two years in high poverty school districts across the nation. The recruits are trained for six weeks at one of its 11 institutes around the country. The organization is committed to providing teachers with a high level of training and support.
"Blake deserves this recognition," said UM elementary education professor Dr. Ann Monroe. "She is a dedicated student who cares deeply about education in Mississippi. We are fortunate to have wonderful students in the School of Education, and Blake is among our best."
At TFA, Blake is an operations coordinator for the Community and Culture Team. She helps provide teachers going through training with anything they might need including a copy center, an intel hub full of assistants ready to help with questions and a community reflection board where they provide teachers with ideas on improving teaching skills.
Blake and her team also manage buses for the trainee teachers. While traveling to school, the Community and Culture Team plays music to excite teachers about the upcoming day of learning. Blake also created a daily newspaper featuring weather, trivia, this day in history and news to hand out to each teacher.
"When I was recruited for TFA I immediately thought that it was an amazing organization," said Schrouf. "I'm really passionate about the organization and the work it does and ever since I learned about it, I knew this is what I want to do."
Blake plans to graduate with a bachelor's degree in elementary education next May and begin teaching mathematics or science. She plans to apply this fall for  Teach For America's two-year program and hopes to earn a master's degree in education while teaching.
"I've always wanted to help people and I'm very passionate about education and I think that a child should have the right to a quality education not just the education that they receive because they're lumped into that school district."
Story by J. A. Scott