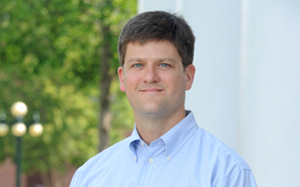 Story by A. M. Abernathy
Between classes, Benjamin Barlow takes spare moments to grab his laptop and Skype with first-grade students at Pelahatchie Elementary School in Rankin County—where the Ole Miss educational leadership student is the new principal to more than 460 students.
Audio clip: Adobe Flash Player (version 9 or above) is required to play this audio clip. Download the latest version here. You also need to have JavaScript enabled in your browser.
Hear Barlow Discuss the Principal Corps
The conversations are quick and reassuring; a chance to explain the importance of reading education, ask about the day's lesson and encourage students to listen to their teacher.
"Our first-graders struggled with comprehension this year," explained Barlow, who officially became principal on June 12 and will receive a specialist degree in educational leadership this August. "I think we will be able to help a few of them to move forward in their reading progress."
As June Student of the Month for the UM School of Education, the Vicksburg native is finishing his capstone leadership class in June and has used the Principal Corps program to make an impressive career move. In 13 months, Barlow, who taught high school language arts in Jackson for 10 years, has bypassed the traditional move to assistant principal and now leads the rural elementary school into its next school year.
"This has been a transformative year," said Barlow who is tasked with increasing student achievement in his new role. "As an instructional leader, you have to understand the nature of education to change it—it's a process, not an event. When you approach education as a series of events, you're going to feel overwhelmed."
During the past nine months, Barlow has worked as an intern principal at Brandon Middle School and Highland Bluff Elementary School in Rankin County. During his last internship, he served as acting assistant principal to fill an unexpected vacancy mid-term.
"As a leadership graduate student, Ben demonstrates many qualities of a seasoned leader," said Susan McClelland, principal corps director and the faculty member who nominated Barlow. "He has a genuine commitment to student achievement, teacher development and professional growth. He received his position because of his exceptional leadership abilities."
While he has spent the last year in a leadership position, this will be Barlow's first time working in a rural school like Pelahatchie where many students live below the poverty line and qualify for free lunches. Retaining quality teachers can be challenging.
"Too many people say certain schools will always struggle because of poverty," Barlow said. "As principals, we have to understand and discuss these difficult issues between districts. We need to create a web of influence with various stakeholders to make real change. That's what I love about the Principal Corps; it encourages collaboration."
For this new principal, education was a delayed calling. He worked in sales for six years after graduating business school at Mississippi State University. By age 30, however, he earned a master's degree in education from Mississippi College and began a new career at Rankin County High School.
Currently, Barlow and his fellow Principal Corps cohort members, all of whom will also be entering principal or assistant principal positions next fall, are developing a capstone project with the Holly Springs School District to help the five-school system in improving student growth over the next few years with the statewide implementation of Common Core standards. They will present their report to the district's superintendent on June 26.