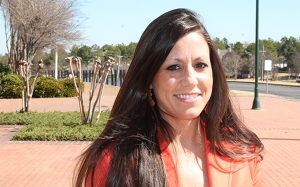 In 2009, University of Mississippi DeSoto student Ashley Castille was hard at work as a mortgage processor in the greater Memphis area not expecting that a sinking housing market would drastically change the direction of her career. When the recession hit, the Olive Branch resident was laid off.
But setbacks aside, Castille set her professional future in a positive direction. Today, she is only weeks away from graduating Summa Cum Laude with a degree in elementary education and is ready to start a new career making a difference in the lives of children.
"Teaching wasn't the original dream, but it has definitely evolved into a new passion for me," explained Castille, who is currently a student teacher at Strayhorn Elementary School in DeSoto County. "I'd never even considered college and now I'm going to be the first in my family to finish. I was 30 and my children were getting older, I qualified for financial aid and grants…it was actually the perfect opportunity."
After transferring from Northwest Mississippi Community College in 2012 and enrolling at UM DeSoto via the two institutions' 2 + 2 Program— which allows community college graduates to finish a bachelor's degree in two years—Castille began her studies in marketing but was eventually drawn to elementary education.
"After being in the business world for so long I wanted to explore a different kind of career," she explained. "I used to handle all the details of business deals and now I manage the details of a classroom. Honestly, I wish I knew everything I've learned when my children were young."
Throughout the last five years, Castille has kept many efforts afloat. While maintaining a 3.9 GPA, the mother of two has continued to process mortgages on a freelance basis, taken full-time class loads and completed full-time student teaching experiences at Strayhorn since January.
"Ashley goes above and beyond in every assignment she is given whether it's for a grade or for her own personal growth," said Dr. Stacey Britton, assistant professor of teacher education and the faculty member who nominated Castille. "She's very organized and involved as a student teacher and exemplifies everything a non-traditional student should be. I'm proud to nominate her for recognition"
Upon graduation on May 10, Castille hopes to find employment at an elementary school in DeSoto County.
"Some days this has been difficult but I'm so happy to be finishing," she said. "There were times when I had to make sacrifices…but you learn to balance life, make a schedule and stick to it. I can't wait until graduation when I get the chance to walk across that stage."