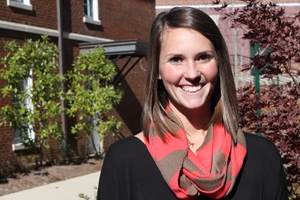 Story and Photo by A. M. Abernathy
North Mississippi Children at Okolona Elementary School and North Panola Junior High School may not know University of Mississippi senior Angie Tracy, but they have new reading materials this fall thanks to $3,000 in donations she helped obtain for the schools.
"It's nice to see something happen with the gifts that I can give," said Tracy, the November Education Student of the Month whose family foundation awards annual grants to nonprofits around the country. "When I go to schools, I see kids who need things, so I'm glad I'm able to help and know that these donations are being used in a meaningful way."
With the St. Louis native's help, the North Mississippi Education Consortium was able to benefit both schools with funding from the Tracy Family Foundation in Mt. Sterling, Ill. The initial donation to the consortium for $2,000 last spring provided the Okolona school with funding to buy digital books for E-readers used by students. The second grant, a $1,000 donation used to buy new classroom texts for North Panola, came this fall after Tracy reported the results of the first donation to the Foundation's board.
"My grandparents have 47 grandchildren," explained Tracy. "When we turn 18, we all get to award a $2,000 Third Generation Grant to an organization of our choosing. Each year we present which organizations we chose to benefit and we vote to give an additional $1,000 to one. This year we selected the consortium."
Tracy selected the consortium because of its mission to improve public education in the state. The organization is housed in the UM School of Education, the state's largest institution for teacher and educational leadership preparation, and is composed of 45 public school districts and three community colleges. The organization offers continuing education for educators and professional leadership and development for schools under state conservatorship—like Okolona and North Panola.
"Angie is an outstanding young lady with the heart of a teacher," said Susan Scott, NMEC program assistant and teacher education instructor who nominated Tracy for Student of the Month. "When she contacted me, it was clear that she'd done her research and she wanted the donations to go directly to students."
An elementary education major, Tracy is a currently completing her student teaching at Bramlett Elementary School in Oxford and completing a honors thesis through the Sally McDonnell Barksdale Honors College which is a survey of teaching methods used by Mississippi public mathematics teachers. She's currently serving on the education committee of the Tracy Foundation and hopes to continue to benefit education causes in Mississippi and elsewhere.
"I'm fortunate that I can actively help causes that I'm passionate about," she said. "It's nice to reach out and not just sit back and watch."