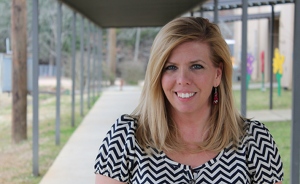 Story and Photo by A. M. Abernathy
When University of Mississippi senior Amy Davis declared her major as education in 2011, the mother of three set two high goals for herself: to become a skilled instructor and to win an Ole Miss Taylor Medal, the highest academic honor given by the university.
Today, both wishes have come true for the Tupelo native.
"I didn't really expect to get it," Davis said. "For me, it was enough to just be honored. I remember when I began classes at Ole Miss and I read about the Taylor Medal. I thought to myself, 'that could be me. I want to win one of those.'"
Davis was nominated for Student of the Month by UM elementary education professor Dr. Virginia Moore, who has taught her at the UM Tupelo campus for the last two years. Moore nominated Davis for her enthusiasm and dedication to teaching.
"Mrs. Davis demonstrates to the highest level that she can lead, direct, respond to students appropriately, plus exhibit interpersonal skills," explained Moore. "After observing her with the children in a school setting, I believe Mrs. Davis to be an excellent teacher who leads with enthusiasm and passion. She will be an outstanding teacher."
Moore nominated Davis for Student of the Month for planning and hosting an event for her students at South Pontotoc. On March 1, during Read Across America Day, first-graders visited with Gayle Wicker, wife of Senator Roger Wicker, and state representative Brian Aldridge to read Dr. Seuss' "Oh, The Places You'll Go." To show support of the program, UM Tupelo dean Jim Pate and Pontotoc superintendent Kenneth Roye attended the event, as well.
"It started out as a culminating activity for the two-week lesson I did on treasures," explained Davis. "We focused the first week on stories and fairy tales, then we moved into a social studies section in which we discussed how our government and laws can be treasures. Eventually, I thought how cool if someone with connections to Washington, D.C., could come talk with the class about government."
Teaching was a second career choice for Davis. As a high school student, she planned on putting her more than 10 years of classical piano training to work as a professional musician—what she didn't expect was becoming a young mother shortly after marrying her high school sweetheart at 18.
Fortunately for Davis, her love for both music and family had a roundabout way of revealing a passion for education. While raising her three children, the Tupelo Native spent more than a decade teaching piano lessons out of her home, developing a love for the craft, until one day a newspaper article dropped a new ambition into her lap.
"There was a special news section on women at work," recalled Davis. "There was one story about a woman who went back to school while still raising her kids. It was like being struck by lightning. I went home and told my husband that I think I'm supposed to be a teacher."
After graduation, Davis hopes to find a teaching job in Northeast Mississippi and eventually pursue a master's degree in education and national board certification.